The 72nd Annual Congress of the Japan Society of Obstetrics and Gynecology | Greetings
Greetings
The 72nd Annual Congress of the Japan Society of Obstetrics and Gynecology
Daisuke Aoki,M.D., Ph.D.
Professor and Chairman,
Department of Obstetrics & Gynecology, Keio University School of Medicine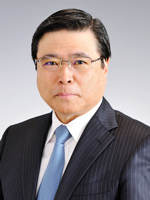 My name is Daisuke Aoki, and I have been appointed as President of the 72nd Annual Congress of the Japan Society of Obstetrics and Gynecology (JSOG). It is a great honor to be entrusted with the responsibility of organizing this long-standing Congress, and I would like to express my deep gratitude for this opportunity to all the members of the JSOG and everyone else concerned. All the staff of my department and members of the Keio University alumni association will do our utmost to make the Congress a success. The 72nd Annual Congress of the Japan Society of Obstetrics and Gynecology will be held over the four-day period from Thursday, April 23 to Sunday, April 26, 2020, at the Tokyo International Forum. Many JSOG members are likely to be familiar with this venue, but we are taking steps to make it even more convenient in myriad different ways. As well as all the regular features of the Annual Congress – invited lectures, symposia, special lectures, and educational lectures, and the educational programs for interns and lifelong learning programs – we are planning additional sessions including the President's special program, and are inviting numerous speakers from overseas. As the 72nd Annual Congress will be held in the same year as the Tokyo Olympics, we are also considering a session focusing on female athletes, and there will be new initiatives for the international sessions and poster sessions. We are also preparing a full program of discussions for the young doctors who will support Japanese healthcare in the future, including a Medical Students' Forum, and this issue is also related to the topical issue of reforming working practices.
The 72nd Annual Congress will be held in an Olympic year, and coincidentally the last time the Annual Congress was organized by Keio University it was also an Olympic year, 16 years ago (the year of the Athens Olympics). Keio University School of Medicine and Keio University Hospital are located next to the New National Stadium, the main Olympic site, and as our preparations for the Annual Congress have coincided with its construction, for the past few years the atmosphere in the Shinanomachi area has been hectic. Rebuilding for the Olympics is going on throughout Tokyo, and by the time of your arrival the city will look quite different. Holding the Olympics will bring about Tokyo's rebirth, and I hope our Annual Congress will also take a new step forward.
The first year of the Reiwa era is a time of renewal, and the 72nd Annual Congress will be the first to be held in the new era. It is my greatest wish to work with the membership of JSOG to organize an Annual Congress fit for the opening of this new age. I and my entire department are looking forward to seeing you there.