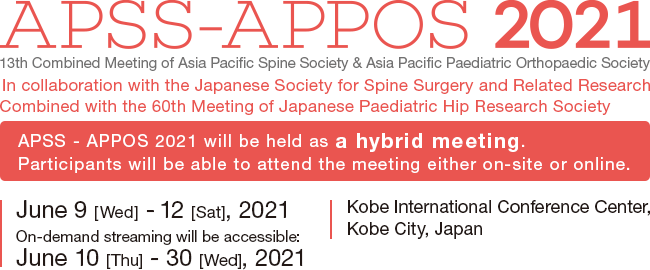 ---
---
APSS-APPOS 2021 is almost here!
Are you ready to join us?
The APSS-APPOS 2021 hybrid meeting is finally launching on Thursday, June 10, 2021 at 10:15 AM (JST/GMT+9).
We look forward to all gathering together! Mark your calendars now!
Live-stream: June 10 (Thu.) - June 12 (Sat.), 2021 (JST/GMT+9)
On-demand: June 10 (Thu.) - June 30 (Wed.), 2021 (JST/GMT+9)
APSS Plenary Lectures
16:40 - 17:40 (JST/GMT+9), Thursday, June 10, 2021
How TES (Total en bloc spondylectomy) was established?
- my soul and spirit through "Mission impossible"!

Katsuro Tomita
Kanazawa University, Japan

Correction of spine deformities using spinal osteotomy:
from the cervicothoracic junction to the lumbosacral spine

Kuniyoshi Abumi
Sapporo Orthopaedic Hospital, Japan
APPOS Plenary Lectures
11:40 - 12:40 (JST/GMT+9), Thursday, June 10, 2021
An ounce of prevention is worth a pound of cure $B!D(B
a plea for hip surveillance programs in cerebral palsy

Ashok N. Johari
International Centre for Paediatric Musculoskeletal Care, India

Osteogenesis imperfecta: genetics, medical treatment & limb stabilization

Tae-Joon Cho
Seoul National University, Korea
3. Finalists for the Best Paper Awards
Best Paper Awards will recognize outstanding papers in basic and clinical research in the fields of spine and paediatric orthopaedics. Finalists for the Best Paper Awards are listed below:
Significance of vertebral body sliding osteotomy as a surgical strategy for the treatment of cervical ossification of the posterior longitudinal ligament
Sehan Park, Korea
Comparison of the clinical and radiographic results between cervical artificial disc replacement and anterior cervical fusion: 10-year follow-up study
Kai Yan, China
Deep learning pipeline for automated detection and classification of central canal, lateral recess and neural foraminal stenosis on lumbar spine MRI
Jiong Hao Tan, Singapore
Intrathecal administration of recombinant human hepatocyte growth factor for acute traumatic cervical spinal cord injury: double-blind, placebo-controlled and randomized phase I/II study
Kazuya Kitamura, Japan
Prediction of final outcome after posterior correction with lower instrumented vertebra L3 or L4 for the correction of structural thoracolumbar/lumbar curve
-minimum 5 years follow-up
Kun-Bo Park, Korea
Better patient experience improves outcomes in paediatric patients with scoliosis
Yi Ling Chua, Singapore
Clarifying the therapeutic effect of grafted human iPSC derived neurons in spinal cord injury by chemically controlling neuronal activity
Takahiro Kitagawa, Japan
Long-term selective stimulation of transplanted neural stem/progenitor cells for spinal cord injury improves locomotor function mediated by increased synaptic transmission
Momotaro Kawai, Japan
Novel biomarkers of health and degeneration in human intervertebral discs - in-depth proteomic analysis of collagen framework of fetal, healthy, scoliotic, degenerate and herniated discs
Dilip Chand Raja Soundararajan, India
The effect of irrigation on temperature during drilling for corticotomy using the double barrel drill sleeve
Muhammad Lutfi Abdul Rashid, Malaysia
3D-MRI analysis of articular cartilage thickness in the femoral head of children with Legg-Calvé-Perthes disease
Hidenao Tanaka, Japan
Genetic, phenotypic and geographical distributions of a large Chinese osteogenesis imperfecta cohort
Peikai Chen, China
Growth disturbance of the capital femoral epiphysis following reconstructive hip surgery in patients with cerebral palsy
Byoung Kyu Park, Korea
Long-term outcomes of soft tissue surgery for the prevention of hip displacement in children with severe cerebral palsy: comparison with the natural course
Takashi Hatano, Japan
Prevalence of multiple-level spondylolysis and the bone union rates among growth-stage children with lower back pain
Noriyuki Iesato, Japan
4. How to Access the Virtual Meeting
3 simple steps to access the virtual meeting!
| | |
| --- | --- |
| Step 1 | Access your registration page. |
| Step 2 | Click on the $B!H(BAPSS-APPOS 2021 Virtual Meeting$B!I(B button which will be shown on the morning of June 10. |

To view live-stream programming

To view on-demand programming

| | |
| --- | --- |
| Step 3-1 | Click the date, go to program page and select a session you would like to view. |

| | |
| --- | --- |
| Step 3-2 | Click "Scientific program" button for APSS or APPOS, select a topic, and click "Video" button of which presentation you would like to view. |
| | |
| --- | --- |
| - | The latest version of Chrome, Safari, Firefox, and Edge are the recommended browsers to view sessions. |
| - | Sharing IDs and/or Passwords with others is strictly prohibited. Passwords will only be valid on one device at a time. |
In addition to the on-site exhibition, a virtual exhibition will be available where you will be able to explore products at any time and from anywhere during the meeting period.
3 simple steps to access the $B!H(BVirtual Exhibition$B!I(B page!
| | |
| --- | --- |
| Step 1 | Access to your account page |
| Step 2 | Click on the "APSS-APPOS 2021 Virtual Meeting" button which will be shown on the morning of June 10 |
| Step 3 | Click on the "Virtual Exhibition" button |
6. Live-stream & Confirm Local Time Zone
Live-stream sessions will be broadcast according Japan Standard Time.
Please check the Scientific Program schedule for the live-stream session times at the URL below.
http://www.congre.co.jp/apss-appos2021/contents/program.html
Then, confirm the corresponding times when the live-stream sessions will be broadcast in your local time zone at the URL below.

Opening Remarks, Sponsored Seminars, Closing Remarks
Live-Stream/On-demand
Sessions below will be available on-demand the day after being live-streamed.
| | |
| --- | --- |
| APSS | Plenary Lectures, Symposia, Meet the Master, APSS Scoliosis Focus Group+JSS Joint Symposium, Video on Key Surgical Techniques, Best Paper |
| APPOS | Plenary Lectures, Symposia, APPOS-JPHS Combined Symposium |
On-demand Only
Sessions below will be available from June 10 (Thu.) - June 30 (Wed.), 2021 (JST/GMT+9)
| | |
| --- | --- |
| APSS | APSS Fellowship Session, Free Paper Presentations |
| APPOS | Video Session, Free Paper Presentations |
If your colleagues and friends have not completed their registration, please encourage them so they can join the meeting!!
Certificate of Attendance will be available on your registration page from June 10 (Thu.), 2021.
Certificate of Presentation will be issued to first authors and co-authors upon request to those who have completed their registration. Please e-mail the congress secretariat at (apps-appos2021@congre.co.jp) by June 30 (Wed.), 2021 to request your Certificate of Presentation and they will be sent to you in early July 2021.
This will the very first APSS-APPOS meeting to be held in a hybrid format.
We are excited to share this experience and look forward to welcoming you all!
Congress Secretariat of APSS-APPOS 2021
© APSS-APPOS 2021. All Rights Reserved.