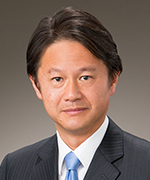 The 51st Annual Meeting of the Japanese Society for
Spine Surgery and Related Research
Congress President
Masaya Nakamura MD, PhD
Professor & Chair, Department of Orthopaedic Surgery
Keio University School of Medicine
It is a great honor for the Department of Orthopaedic Surgery of Keio University to have been given the opportunity to host the Annual Meeting of the Japanese Society for Spine Surgery and Related Research, a conference with a longstanding history, and I would like to express my gratitude to my many predecessors who built up and developed the JSSR, as well as its offers and members. The meeting will be held on April 21–23, 2022, at PACIFICO Yokohama North.
As the theme of this 51st Annual Meeting, we have chosen "Passion, Vision, Action: Towards the Next Five Decades of Spine and Spinal Cord Surgery." As you are aware, Japan is one of many countries with rapidly aging populations, and the management of musculoskeletal disorders is attracting attention as an urgent issue, with spine and spinal cord surgery coming to play an ever-greater role. If we are to play our part, our passion to do whatever we can to treat patients suffering from spine or spinal cord disease is important. For this passion to be fruitful, it is also important to outline and share our vision for the future.
Over the past 50 years, spine and spinal cord surgery has undergone remarkable development through the elucidation of the pathophysiologies of different diseases and the development of diagnostic techniques and surgical procedures. However, even today, there are still several conditions that are difficult to treat. Overcoming these difficulties requires us to take concrete action. This may mean basic and clinical research as well as integrated research such as joint research between medicine and engineering. It is our mission to make the findings of these studies useful to society as a whole. I hope that this Annual Meeting will bring together spine and spinal cord surgeons who are passionate about their work and who together can outline a vision for the next 50 years of spine and spinal cord surgery, providing a venue for lively discussion.
The meeting will include two Special Lectures and one Cultural Lecture, and for the invited lectures by overseas speakers we are planning to invite young, up-and-coming doctors who will be leaders in the next generation. We are also preparing symposia and designating the main themes, and have chosen a range of fields including interdisciplinary areas (such as collaboration between medicine and engineering).
Despite the uncertain outlook imposed by Covid-19, I hope that the vaccine roll-out will gradually start to improve the situation, and am working together with all the members of my department so that you will be able to enjoy this conference in the pleasant breezes of springtime Yokohama to the full.