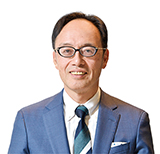 Mototsugu Oya
, M.D.
Congress Chairman of the 109th Annual Meeting
of the Japanese Urological Association
Professor and Chairman, Department of Urology
Keio University School of Medicine
In consideration of the effect of the novel coronavirus (COVID-19) on the preparations and running of the 109th Annual Meeting of the Japanese Urological Association, the Standing Committee of the Board has decided to postpone the meeting, which had been scheduled to be held from Monday, April 26 to Thursday, April 29, 2021 at Pacifico Yokohama, until Tuesday, December 7 to Friday, December 10, 2021.
Since the start of the spread of COVID-19, we had been pressing ahead with preparations for a hybrid meeting, combining a conventional in-person event with online sessions. However, as it is presently unclear whether or not foreign invited speakers will be permitted to enter Japan, and because many presentations are being affected by delays, including the suspension of research projects due to the effect of COVID-19 in Japan, we have reached the conclusion that in the present climate of uncertainty it would not be in the best interests of JUA members to hold the meeting in April 2021 as scheduled.
The original deadline for submitting abstracts to the meeting had been September 24, but in line with the change of dates abstract submissions will now also be accepted from February 18 to March 31, 2021. The abstract registration system will be temporarily suspended until the abstract submission period restarts on February 18. If you have already registered your abstract, you will be able to make edits and corrections after the system reopens on February 18.
We apologize for the inconvenience that this change in dates will entail. We are deeply aware of the numerous impacts it will have in many ways, but intend to put together an event that leaves a lasting impression on the urologists from Japan and around the world who will meet in Pacifico Yokohama during the four days from Tuesday, December 7 to Friday, December 10, 2021.
The 109th Annual Meeting of the Japanese Urological Association will not be a success without the collaboration of JUA members. We are grateful for your understanding and support, and very much hope to be able to meet you in Pacifico Yokohama.
September 24, 2020