Accommodation Information
With a long history as the leading tourist city in Japan, Kyoto offers over 20,000 rooms in the central area, with everything from economic youth hostels and budget hotels to first class city hotels and traditional Japanese style inns "Ryokan."
We recommend that you secure your accommodations as early as possible.
The official travel agency for hotel accommodation for the congress is JTB Western Japan Corp. JTB has reserved a sufficient number of rooms at various hotels in Kyoto for ISBRA2018 participants at special discount rates. Please note that hotel reservations will be processed on a first-come, first-basis.
To reserve your accommodations, please proceed to the JTB Hotel Reservation page by clicking on the button below.

| | |
| --- | --- |
| Hotel Booking Opens | April 1, 2018 |
| Hotel Booking Deadline | August 20, 2018 |
For inquiries about accommodation:
JTB Western Japan Corp., MICE Division
[19th Congress of ISBRA (ISBRA2018) Desk]
TEL: +81-6-6252-5044
FAX: +81-6-7657-8412
E-Mail:
westec_op10@jtb.com
Office Hours: 9:30-17:30 (Weekdays Only)
For general inquiries about the congress:
Congress Secretariat of ISBRA2018
E-mail:
isbra2018@congre.co.jp
Office hours: 9:30-17:30 (weekdays only)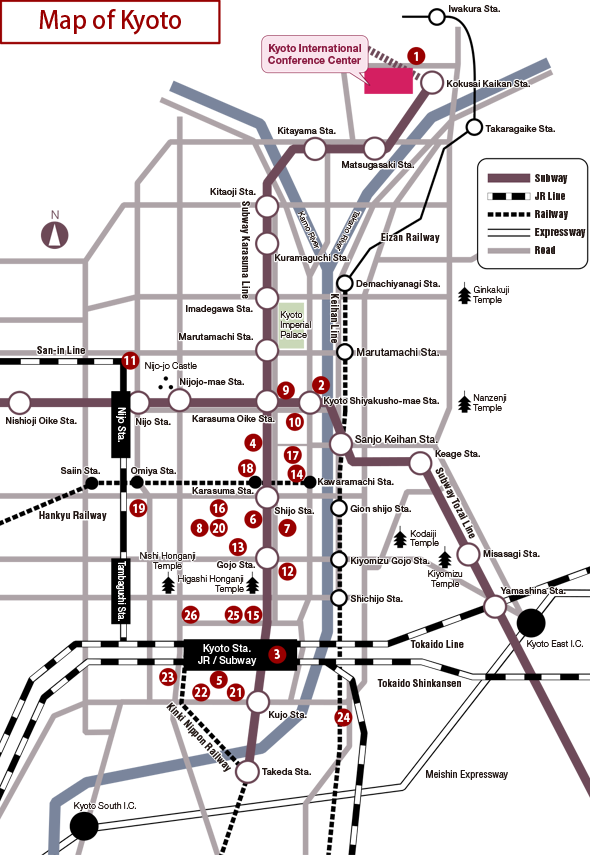 Class
No.
Hotel Name
From Hotel to the
venue (by subway)
Deluxe
(JPY23,000-JPY38,000)
1
Grand Prince Hotel Kyoto
5 minutes walk
2
Kyoto Hotel Okura
20-25 minutes
3
Hotel Granvia Kyoto
20-25 minutes
4
Rihga Royal Hotel Kyoto
25-30 minutes
Superior
(JPY13,000-JPY25,000)
5
Hotel Monterey Kyoto
20-25 minutes
6
Hotel Vista Premio Kyoto
30 minutes
7
Kyoto Plaza Hotel
25-30 minutes
8
Kyoto New Hankyu Hotel
20-25 minutes
9
Hotel UNIZO Kyoto Shijo Karasuma
15-20 minutes
Standard
(JPY11,000-JPY20,000)
10
Hearton Hotel Kyoto
15-20 minutes
11
Urban Hotel Kyoto Nijo Premium
30 minutes
12
New Miyako Hotel
20-25 minutes
13
Karasuma Kyoto Hotel
15-20 minutes
14
Daiwa Roynett Hotel Shijo Karasuma
15-20 minutes
15
Mitsui Garden Hotel Kyoto Shijo
20-25 minutes
16
Vessel Hotel Campana Kyoto Gojo
15-20 minutes
17
Aranvert Hotel Kyoto
20-25 minutes
18
Via Inn Kyoto Shijomuromachi
20-25 minutes
19
Rihno Hotel Kyoto
25-30 minutes
20
Kyoto Dai-ichi Hotel
20-25 minutes
21
Green Rich Hotel Kyoto Eki Minami
30-35 minutes
Economy
(JPY8,000-JPY10,000)
22
Hotel Gimmond Kyoto
15-20 minutes
23
Kyoto Central Inn
25-30 minutes
24
Court Hotel Kyoto Shijo
25-30 minutes
25
Urban Hotel Kyoto
40 minutes