The 1st International Society of Hematology Webinar has ended in a great success.
Thank you for your attendance and cooperation.
The 1st International Society of Hematology Webinar
Kinuko Mitani
Congress President
Chair of Council in ISH
Department of Hematology and Oncology,
Dokkyo Medical University, Japan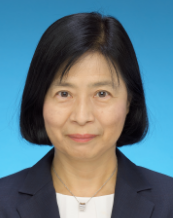 My name is Kinuko Mitani and am taking a role of chair of council in International Society of Hematology (ISH). It is my great honor to run the 1st Webinar of ISH as the president that will be delivered from Japan to the world.
ISH was founded in 1946 and is the oldest international hematology society concerned with advancing scientific research as well as the practice of hematology at both clinical and laboratory levels. ISH membership is open to any person with medical or scientific qualification of good professional standing in hematology. ISH has over 4,500 active members worldwide.
ISH has three divisions: Asian and Pacific Division (APD), European and African Division (EAD), Inter-American Division (IAD) and organizes the congress every other year with a rotation of the venue among APD, EAD and IAD. Last year, we had the ISH2022 congress in Barcelona, Spain, and will conduct the ISH2024 congress in Bangkok, Thailand. However, under a circumstance of the pandemic of COVID19 during these three years, our activities have been restricted so much. This time, we have planed the 1st Webinar to enhance our activities and make all the hematologists in the world get together.
Main topic of the 1st Webinar is "bone marrow failure syndrome". We have scheduled three symposia (ASH-ISH joint, EHA-ISH joint, and Asian Symposium) and three sponsored seminars for aplastic anemia, paroxysmal nocturnal hemoglobinuria and myelodysplastic syndromes. Although registration is required, we will not collect registration fee and welcome all the hematologists in the world.
Considering the time difference, major part of participants may come from the AP division. However, we hope that this Webinar will provide a great opportunity for exchange of hematologists all over the world.
February 4, 2023