Welcome Message
The 53rd Annual Musculoskeletal Tumor Meeting of the
Japanese Orthopaedic Association
President

Takeshi Ishii, MD

Division of Orthopaedic Oncology, Chiba Cancer Center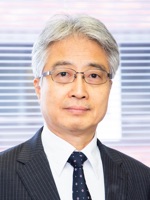 The 53rd Annual Musculoskeletal Tumor Meeting of the Japanese Orthopaedic Association will be held at the Royton Sapporo hotel over the two days of Thursday, July 16 and Friday, July 17, 2020. It is a great honor for my division, the Division of Orthopaedic Oncology, Chiba Cancer Center, to host this long-standing meeting with the support of the Department of Orthopedic Surgery of Chiba University.
The main theme will be "Everything for the good of the patients". I myself joined the Chiba Cancer Center in 1994, and under the guidance of Dr. Shin-ichiro Tatezaki I learned the importance of not simply curing disease but of total care, including aspects such as informed consent that respects the patient's right to make their own decisions, education, employment, and marriage. From then until now, I have made it my creed to do everything I can for patients in my medical practice. I believe that doctors responsible for treating musculoskeletal tumors require knowledge not only of orthopedic surgery, but also extending to a wide range in other fields including histopathology and radiotherapy. I also think that support for patients by multidisciplinary teams including professionals other than doctors and covering a wide range of different aspects is also important, and this Annual Meeting will include sessions open to presentations by rehabilitation staff and nurses.
Orthopedic surgeons generally tend to feel slightly out of their depth when faced with musculoskeletal tumors, and the many clinical issues to be covered include sarcoma management in children, adolescents, and young adults, sarcoma management in the very old, the treatment of bone metastasis of different carcinomas, indications for the fusion of spinal metastasis, issues with the treatment of benign bone tumors, long-term issues with heavy particle beam therapy, genome analysis of sarcoma patients, and preventing cancer or cancer treatment from impairing movement. Case study sessions will also focus on clinically educational cases, so that not only specialists in musculoskeletal tumors and pathologists but also general orthopedic surgeons will find much to interest them in this Annual Meeting. Residents in training can also not only attend a special training session on musculoskeletal tumors, but also attend educational lectures to acquire basic knowledge of this subject. We have also decided to reduce the total number of presentations and venues to create an environment in which members will find it easier in practice to attend presentations.
In the year of the Tokyo Olympics, we have decided not to hold the Annual Meeting in Kanto, but instead have chosen the pleasant climate of Sapporo. Not only is the Royton Sapporo hotel compact with comparatively convenient access to transport, it is also within easy reach of restaurants serving delicious seafood and other local delicacies. I look forward to seeing many JOA members and other professionals there.