Greetings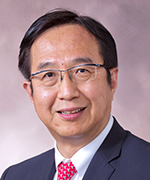 Takayuki Enomoto, MD, PhD
Congress President of the 73rd Annual Congress of the Japan
Society of Obstetrics and Gynecology
Professor and Chairman, Department of Obstetrics and Gynecology,
Niigata University Graduate School of Medical and Dental Sciences
We are pleased to announce that we will hold the 73rd Annual Congress of the Japan Society of Obstetrics and Gynecology (JSOG) for four days from April 22 (Thursday) to 25 (Sunday), 2021 at Toki Messe in Niigata City. This is the fourth time for Niigata University to serve as a host university of the Annual Congress of JSOG.
I have chosen three themes for the Congress: "Regional Promotion," "International Exchange," and "Communication with Citizens." One of the main focuses of JSOG is international exchange, as shown by the recent dramatic increase in the number of Asian participants in our Annual Congress. In drawing up the program, we will emphasize educating young obstetricians and gynecologists from Asian countries, as well as sharing the latest foreign medical information with JSOG members. We will allocate one conference room exclusively for international events, such as educational seminars and symposiums conducted in English, and paper presentations by foreign participants.
The poster of the 73rd Annual Congress features a sugidama, or cedar ball, which is the symbol of Japanese sake breweries. Niigata Prefecture is home to no fewer than 100 sake breweries, which are renowned for their high-quality sake. The black shadow in the sugidama resembles the main land of Japan, and this makes the sugidama look like a globe. However, a closer look reveals that this shadow actually has the shape of Niigata Prefecture. The poster thus represents our desire to send messages from Niigata to Japan and the entire world. Niigata is also known for having among the best seafood and agricultural products in Japan. With these local specialties, we will heartily welcome participants from overseas.
The social situation is constantly changing, and so too is the way we organize our Annual Congress. While the 72nd Congress was held online due to the Covid-19 pandemic, the 73rd Congress will be held in a hybrid manner, combining the advantages of face-to-face and web-based meetings.
I look forward to welcoming many participants from other parts of Japan and the world, to Niigata.