The 50th Annual Meeting of
the Japanese Society for Spine Surgery and Related Research:
– Learning from Our Legends; Creating Future Legends –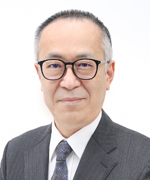 The 50th Annual Meeting of the Japanese Society for
Spine Surgery and Related Research
Congress President:
Masashi Neo, MD, PhD, Professor and Chairman
Department of Orthopedic Surgery, Osaka Medical College
The 50th Annual Meeting of the Japanese Society for Spine Surgery and Related Research (JSSR) will be held from Thursday, April 22 to Saturday, April 24, 2021 at the Kyoto International Conference Center. It is a great honor to have been appointed Congress President on the momentous occasion of the 50th Annual Meeting.
The theme is "Learning from Our Legends; Creating Future Legends."
At the time the JSSR was established, the level of medical care in Japan lagged behind that in Europe and the United States, but the country had come up with a number of world-leading original ideas. Today, spinal surgery in Japan is among the world's best in terms of both clinical practice and research, but most of the concepts, techniques, and implants used were created and developed in Europe and the United States; Japan has yet to become the leading nation driving the rest of the world. Furthermore, the developing countries that account for the overwhelming majority of surgical procedures are catching up with Japan both clinically and in research, and are threatening to overtake us. In this situation, I consider that training the next generation which will propel Japan to global leadership is the mission allotted to the JSSR.
To mark the milestone of this 50th Annual Meeting, we will look back at the achievements of our pioneering Japanese predecessors who could be called "legends," and provide guidelines to younger surgeons and researchers who will be the legends of the future. To this end, the program will include a large number of lectures and symposia featuring Japanese legends, including former JSSR Congress Presidents. We are also inviting young surgeons and researchers from whom great things are expected in future to submit proposals for presentations on a wide range of ideas and research.
Although Kyoto, where the Annual Meeting will be held, is famous for its long history as Japan's ancient capital, in fact it is also a student city. Its ancient traditions and conventions coexist harmoniously with the freedom-loving energy of youth, and this combination has nurtured many of Japan's Nobel prizewinners, making the city the ideal venue in which to discuss our theme.
Professor Akira Yoshino, a graduate of Kyoto University who was awarded the Nobel Prize in Chemistry in 2019, has been invited to give a Special Lecture. I hope that younger attendees in particular will take this chance to hear from a legend whose original work has attracted international acclaim, albeit in a different field.
The JSSR Annual Meeting was last held in Kyoto seven years ago. I hope you will take this opportunity to enjoy the city of Kyoto at its best.