Accommodation
The official travel agency for hotel accommodation for the congress, JTB Global Marketing & Travel Inc. (JTBGMT), has reserved a sufficient number of rooms at various hotels in Kobe for APSS-APPOS 2021 participants at special discount rates.
Please note that hotel reservations will be processed on a first-come, first-basis.
To reserve your accommodations, please proceed to the JTBGMT Hotel Reservation page by clicking on the button below.
Hotel Booking through Official Travel Agency
Hotel Booking Deadline: May 7, 2021
Hotel Map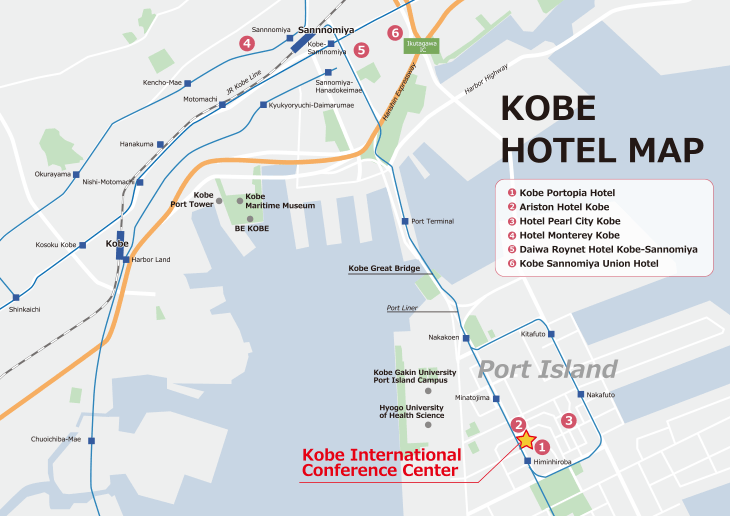 Hotel List
No.
Hotel Name
From Hotel to congress venue
(by Port Liner Train)
1
Kobe Portopia Hotel
3 minute walk
2
Ariston Hotel Kobe
3 minute walk
3
Hotel Pearl City Kobe
10 minute walk
4
Hotel Monterey Kobe
20 minutes
5
Daiwa Roynet Hotel Kobe-Sannomiya
20 minutes
6
Kobe Sannomiya Union Hotel
25 minutes
Inquiry for Hotel Accommodation
JTB Global Marketing & Travel Inc. (JTBGMT)
E-mail: apss-appos2021@gmt.jtb.jp
Office Hours: Mon-Fri 9:30-18:00 Japan Time
*
Closed on Japan public holidays.
*
As a prevention measure for COVID-19, remote work is being introduced at the office of JTBGMT.
Inquiries will be received only by e-mail for the time being.