Atsushi Watanabe, M.D., Ph.D.
President of the Thoracic Section
of the 76th Annual Scientific Meeting
of the Japanese Association for Thoracic Surgery
Professor,
Department of Thoracic Surgery, Sapporo Medical University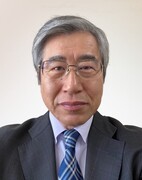 I have been appointed the President of the Thoracic Surgery Section for the 76th Annual Scientific Meeting of the Japanese Association for Thoracic Surgery (JATS). JATS was established in 1948 and has over 8,000 members now. It is a great honor for me to serve as the President, and the heavy responsibility humbles me. Under the leadership of Prof. Yoshikatsu Saiki, the Congress President, while cooperating with Dr. Masayuki Watanabe, the President of the Esophageal Surgery Section, we are planning and preparing for a successful and meaningful meeting.
As is well known, JATS is an academic association that aims to contribute to the improvement and development of each field and cross-sectional (integrated) area in an integrated and organic manner while utilizing each specialized field of surgery that deals with cardiovascular, thoracic, and esophageal surgeries in the chest. Therefore, at this meeting, we strongly hope that there will be lively presentations and discussions that transcend the boundaries of each of them.
In planning this meeting, we established clear Clinical Questions (CQs) for the advanced sessions along with the traditional session themes. We are asking you to register a study that clarifies the answer to the CQs or comes as close as possible to the answer. Considering that it takes time to set up research and collect data, we announced the session theme, CQs, and outline earlier. In the respiratory field, We have set up 9 advanced sessions " Indication of sub-lobar resection for non-small cell lung cancer", " Impact of donor factors on outcome of lung transplantation", "Multimodality therapy using immune checkpoint inhibitor for malignant pleural mesothelioma" ," Do&Don't for best practice of minimally invasive thoracic surgery" and so on. All of these themes include problems that need to be solved at present, and we believe they will contribute to elucidating the set CQs.
The results of the comparison of lobectomy and limited resection for 2 cm or less non-small cell lung cancer in the peripheral of the lung field (lobectomy and limited resection for small non-small cell lung cancer in the peripheral of the lung field: JCOG0802 / WJOG4607L) disseminated by the Japanese Thoracic Surgeons were published in Lancet in April 2022, making limited surgery a growing presence. Moreover, in the respiratory field, combined with advances in multidisciplinary treatment, nonsurgical pre- and post-operative treatment and extended surgery are being performed not only for lung cancer but also for advanced thoracic malignancies. Moreover, minimally invasive surgery is moving in two directions, from multi-portal thoracoscopic surgery to uni-portal thoracoscopic surgery and robot-assisted thoracic surgery. Under these circumstances, we would appreciate your cooperation in making this a meaningful academic meeting for active discussions not only in the field of thoracic surgery but also in the cross-sectional field. Finally, I would like to express my sincere gratitude to everyone involved in the planning and operation of the meeting.
We look forward to your participation in Sendai, where the autumn leaves will begin in 2023.