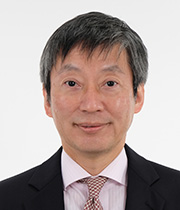 The 63rd Annual Meeting of the Japanese Society of Nuclear Medicine
Chair: Makoto Hosono
Professor, Department of Radiology, Kindai University Faculty of Medicine
I am honored to serve as the congress chair of the 63rd Annual Scientific Meeting of the Japanese Society of Nuclear Medicine (JSNM). The meeting will be held from November 16th (Thu) to 18th (Sat), 2023 at Congrès Convention Center and Conference Room Tower B in Grand Front Osaka. Located in the Umeda district of Osaka, where many transportation systems are available, it is easily accessible for guests from all over the country and even from across the world. We are planning to hold a hybrid format for the meeting that will be delivered online in addition to in-person. The 63rd Annual Scientific Meeting of JSNM will be held jointly with the 43rd Annual Meeting of the Japanese Society of Nuclear Medicine Technology (JSNMT), chaired by Tetsuo Kida sensei, Chief Technologist, Shiga University of Medical Science Hospital, and now we are working hard on the preparation of the meeting.
The theme of our meeting is "Learn and Create Nuclear Medicine -Everyone is the Heroine/Hero!". I hope that our meeting will provide a platform where each of you will play a leading role in practicing nuclear medicine and in creating new fields of nuclear medicine.
Lately, we live in an era in which nuclear medicine is making remarkable progress. In the field of nuclear oncology, lutetium-177DOTATATE (lutetium oxodotreotide) for neuroendocrine tumors and iodine-131MIBG for pheochromocytoma and paraganglioma were approved as nuclear medicine therapies in 2021. Radium-223 was approved as an alpha therapy in 2016, and a substantial amount of effort has been devoted to the development of subsequently emerging alpha therapies. In addition, with the introduction of lutetium-177DOTATATE into the country, revisions were made to the regulations related to Medical Care Act, which allows single rooms in general wards to be used as "special measures patients rooms" instead of dedicated isolation rooms, and medical fees were raised both for dedicated isolation rooms and "special measures patients rooms". In nuclear cardiology, FDG for sarcoidosis and large-vessel vasculitis, and pyrophosphate and HMDP for myocardial amyloidosis are covered by public health insurance, and semiconductor SPECT has dramatically improved the quality of myocardial images. In the field of nuclear neurology, therapeutic drugs for dementia are being highly expected, and amyloid PET has received approval and has been going forward for insurance coverage in the very near future.
Prior to our JSNM&JSNMT meetings, the 7th International Symposium of the International Commission on Radiological Protection ICRP (ICRP 2023) will be held in Odaiba, Tokyo from November 6th (Mon) to 9th (Thu), 2023, with Japan as the host country. Experts will come to Japan from all over the world. One of the major points of ICRP's activities is the development and safety of radiological practices. Since 2017 I have been serving as a member of the ICRP 3rd Special Committee (medical field), we are planning to hold a satellite event in Osaka.
The area around Grand Front Osaka is on the course of a large-scale redevelopment project, making it a suitable location for hosting a meeting of ever-developing nuclear medicine. I would like to plan and run the meeting so that everyone can fully demonstrate their abilities as the Heroine/Hero of the field. We hope that you will learn with pleasure, have a lively discussion, and come up with great ideas at the Annual Scientific Meeting, and also enjoy the vibrancy of the city of Osaka.
Warmest regards,
Makoto Hosono