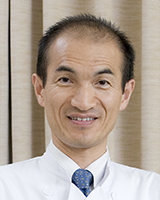 Tomohiko Ichikawa, M.D., Ph.D.
President of the 107th Annual Meeting of the Japanese Urological Association
Department of Urology, Graduate School of Medicine, Chiba University
I would like to extend my best wishes to all the members of the JUA for your continued health and prosperity.
The 107th Annual Meeting of the Japanese Urological Association (JUA) will be held over the four-day period from Thursday, 18 April to Sunday, 21 April, 2019, in the Nagoya Congress Center and Nagoya Gakuin University. It is a great honor to host this long-standing conference, and together with the staff of the Japanese Urological Association , we are working hard to prepare.
As the specialty medical association for urology, the Japanese Urological Association is continuing to grow, with its membership now numbering close to 9,000. The form the Annual Meeting should take has been the subject of debate, and from the 110th Annual Meeting the venue will be chosen from among the four cities of Yokohama, Nagoya, Kobe, and Fukuoka. The 107th Annual Meeting anticipates this by being held in Nagoya, one of these four cities.
Specialist training by the Japanese Medical Specialty Board has also started. The Japanese Urological Association has been actively involved in the introduction of the new system, and is also engaged in a variety of activities to help improve the health of Japanese citizens, including promoting cutting-edge medical science research, developing and supplying advanced medical technologies, training outstanding urologists, and establishing reliable regional healthcare frameworks. I hope that through this Annual Meeting, these developments will be reliably passed forward to the next generation. The main theme of the 107th Annual Meeting is "Harmony between technology and mind: evolution for the development of the next generation" It is only by using the latest technology in a spirit of humanity that we will be able to provide harmonized, living medical care. My aim is to organize this Annual Meeting so that in the stillness generated by harmony we will be able to sense the first stirrings of medical care starting to advance into a new generation.
The 30th General Assembly of the Japan Medical Congress 2019 Chubu will be held one week after the JUA Annual Meeting. I would like to pass on both techniques and spirit to young doctors while assessing the role that should be played by urologists at the boundaries with other medical specialties as well as how urologists should deal with an increasingly elderly society.
At this Annual Meeting, the Scientific Meeting will be held over three days as usual, with a postgraduate training program video workshop scheduled to be held on Day 4. I look forward to seeing many of you there.