I am pleased to welcome you to the 29th World Congress of World Association of Societies of Pathology and Laboratory Medicine (WASPaLM), in conjunction with the 64th Annual Meeting of Japanese Society of Laboratory Medicine (JSLM), which will take place in Kyoto, Japan from November 14th to 17th in 2017. This will be the 2nd World Congress in Japan following the 12th World Congress of WASPaLM in Tokyo.
The mission of WASPaLM is to improve health throughout the world by promoting the teaching and practice of all aspects of Pathology and Laboratory Medicine. The first World Congress was held in London in 1951, and the World Congresses have followed in various locations throughout the world, and served as important platforms for updates and discussion on practices in Pathology and Laboratory medicine. In Kyoto, recent advances and future directions in Pathology and Laboratory Medicine will be discussed under the theme of the Congress: ¡ÈContribution to Medical Innovation of the Next-Generation¡É.
Kyoto is a unique city in Japan because it has an unbroken and well-recorded millennium of history, much of which as reigning capital of the nation. It is known to Japan as the cradle of its unique culture, and the spiritual home of the Japanese. Kyoto is an easily accessible city because it is located in the geographical center of Japan. November is the best season for the sight-seeing in Kyoto because of red leaves of autumn.
See you all in Kyoto, Japan in November 2017.
Sincerely,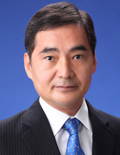 Masami Murakami, MD, PhD.
President, the 29th World Congress of World Association of Societies of
Pathology and Laboratory Medicine and the 64th Annual Meeting of
Japanese Society of Laboratory Medicine