Welcome Message
Naomichi Matsumoto

President of the 63rd Annual Meeting of the JSHG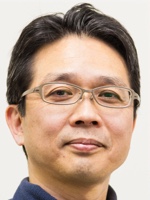 Welcome
Dear colleagues and friends,
On behalf of the Japan Society of Human Genetics, I would like to invite you to attend the 63rd Annual Meeting of the Japan Society of Human Genetics (JSHG), from October 10 (Wednesday) to 13 (Saturday), 2018, in Yokohama, Japan.
It is a great honor to accept the role of President of the Annual Meeting of JSHG. Together with the Vice-Presidents, Dr. Kenji Kurosawa (Division of Medical Genetics, Kanagawa Children's Medical Center) and Prof. Shuichi Ito (Department of Pediatrics, Yokohama City University Graduate School of Medicine), we are now preparing the upcoming meeting to the best of our ability.
The aims of the JSHG are as follows: 1) to contribute to the advancement of science through human genetics research, 2) to promote clinical practice in the field of genetics, 3) to contribute to healthcare and welfare systems through research on diseases and health, and 4) to increase knowledge on human genetics among the general public through education and other activities.
In the field of medical genetics, great successes and advances have been achieved. In particular, novel sequencing technologies have introduced a new era in medical genetics. Many reports of novel mutated genes in rare diseases are also now published on a daily basis. Great achievements have been made in the genetics of common diseases/traits, personal genomics, noninvasive prenatal genetic testing, cancer genomics associated with targeted therapy drugs, and quality control of regenerative medicine products, among others. However, we have also acknowledged social and ethical issues associated with these new techniques/biologies.
In this context, it was decided that the theme of the 2018 Annual Meeting will be "Genomes-solutions to lives," in which we would like to discuss topics such as "How genomic information can promote individual health." and "How important genomic information is for all model organisms." For this theme, the program committee will select the best speakers/presentations in both basic and applied topics/fields. We would like to welcome a broad range of medical/healthcare professionals, researchers, and students as well as sponsors and exhibitors.
Yokohama is the second largest city in Japan. The venue, Yokohama Pacifico, is located at the center of Minatomirai in Yokohama, making it easily accessible by public transport. In Yokohama, it is possible to experience various facets of Japanese traditional and pop culture.
We look forward to meeting old friends and making new ones and having the opportunity to start new collaborations in Yokohama in 2018.