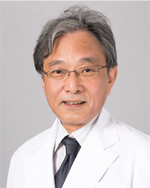 Congress President
2021 the Japanese Society of Medical Oncology Annual Meeting
Kazuto Nishio, M.D., Ph.D.
Professor and Chairman, Department of Genome Biology,
Kindai University, Faculty of Medicine
JSMO 2021
Evolving treatment paradigms for precision oncology
The theme for the upcoming 2021 the Japanese Society of Medical Oncology Annual Meeting is "Evolving treatment paradigms for precision oncology". In 2019, insurance coverage for oncogene panel testing was made available in Japan, and the 17th annual JSMO meeting focused on cancer genome treatment with the theme of "Novel, Challenge and Change". During this gathering, many relevant presentations regarding its implementations were presented generating interest and discourse from the participants.
At the 18th Academic Meeting in February 2021, we would like to follow-up on the real-world experience of oncogene panel testing, 1-2 years after its implementation, by examining the its results and discuss on making improvements and enhancements on its applications. In cancer gene panel testing, actionable gene changes, excluding companion diagnostics, are reported to an expert panel which then reviews the data and recommends the appropriate treatment accordingly. However, it is reported that of the patients treated with molecular targeted drugs, both in Japan and abroad, only 5-10% receive such treatments as a recommendation stemming from gene panel testing. The problem of having "unable to use drugs even if the appropriate drug is available" is an issue that the Japanese Society of Medical Oncology should address. Therefore, creating high level evidences for cancer therapy is a mission to be fulfilled by the JSMO. At the same time, there is a need to create evidence in order to provide as many treatment options as possible, and this feat cannot be accomplished by only sharing the results of pivotal studies, but also by actively engaging in discourse from results generated from pertinent pilot studies. This exchange is also important to reach and build upon a consensus based on levels of evidence.
One of the basic principles of JSMO is to promote translational research. Fundamental research findings of cancer drug treatments provide important insights for determining the levels of evidence to be examined by the aforementioned Molecular Tumor Board. This is an important area of research, particularly in the era of Precision Oncology, and as such we wish deepen our understanding and gain broader perception of the bridge that spans basic research and clinical randomized controlled trials by sparking insightful discussions.
JSMO is also keen on developing treatment strategies for rare cancers and rare fractions. We aim to carry on with this endeavor by continuing to play key roles in international clinical trials and broadening our scope by focusing on internationalization.
Past academic meetings have put an emphasis on education. Elsewhere, our group has worked on human resource development through collaborations with multi-professional medical professionals and private companies. We would like to integrate this symposium in its present form, communicate with multi-disciplinary medical professionals, and actively incorporate joint symposiums with cancer-related societies.
When considering the appropriateness and timing of cancer gene panel testing (profiling testing), the question arises as to "standard treatment". I believe that the duties of the various clinical guidelines issued by the JSMO will become even more important. While companion diagnostics across multi-organs have already been included in insurance, commonality and differences between organs would be discussed at this meeting where medical oncologist and other specialists with multi-organ experience have already gathered.
The word "evolution" was included in the theme of the JSMO 2021. Research has shown that cancers undergo genetic changes that allow them to evolve and progress. However, "evolution in our theme refers to the evolution of cancer treatment, as such, we would hope that the adaptive treatment paradigms according to medical and genetic evolutions will be actively discussed at this conference.