Welcome Message from President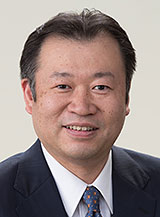 Ryoichi Imamura, M.D., Ph.D.
Department of Urology, Osaka University Graduate School of Medicine
It is my great pleasure to invite you to Transplantation Science Symposium (TSS) Asian Regional Meeting 2022, which will be held during November 25-26, 2022. TSS Asian Regional Meeting is an international symposium officially recognized as a subcommittee by the Transplantation Society (TTS).
TSS Asian Regional Meeting is held once every two years, focusing on the basic fields of transplantation, mainly in East Asian countries. All research must be linked to clinical practice without ending with basic research, and we have named the main title of this meeting "Cutting-Edge Transplant Research -Bench to Bedside-". The last TSS Asian Regional Meeting held in Japan was in 2016, six years ago. Compared to that time, the social situation has significantly changed. Digital transformation is advancing, and telemedicine and remote surgery are being tried.
On the other hand, COVID-19 infections, which have become prevalent worldwide in recent years, have also stagnated social activities and transplantation. In Japan, the number of transplant surgeries has decreased significantly, making it difficult to perform face-to-face not only international conferences such as TSS Asian Regional Meeting but also domestic academic medical conferences. Given the unknown barriers that will continue, it may be necessary to discuss efforts to confront social conditions at medical meetings.
Since this meeting will be held in November, I hope that the social turmoil will be settled, and we will be able to hold TSS Asian Regional Meeting 2022 face-to-face in Kyoto, where the autumn colors are beautiful.
The Organizing Committee will make you very comfortable with heart-warming Japanese hospitality and excellent arrangements for this conference.
We are looking forward to welcoming you to Kyoto, Japan.
Yours Sincerely,
Ryoichi Imamura