Greetings
Aikou Okamoto, M.D., Ph.D
Congress President,
The 75th Annual Congress of the Japan Society of Obstetrics and Gynecology

Chief Professor,
Department of Obstetrics and Gynecology,
The Jikei University School of Medicine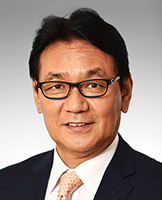 Dear Colleagues,
It is our great pleasure to announce that the 75th Annual Congress of the Japan Society of Obstetrics and Gynecology (JSOG 2023) will be held from May 12 to May 14, 2023, in Tokyo, Japan.
Considering the social situation such as the COVID-19 pandemic, the conference will be held in a hybrid format, combining live and on-demand streaming with in-person meetings.
We are determined to make this annual conference an intellectually stimulating, international conference that will continue and further develop the traditions of Japanese obstetrics and gynecology. Furthermore, we are confident that the Congress will contribute to the development of obstetrics and gynecology in Japan and worldwide, and that it will fulfill our department's philosophy of "making the world's women and children happy."
The program includes lectures on the latest medical research by domestic and international researchers, as well as various sessions and workshops on topics that have been the focus of much attention in recent years.
We have adopted the phrase "Jishin Myoshu" as the theme of this Congress. It indicates that a good doctor takes care of all patients with a cherishing mind and excellent techniques. With the spirit of "Jishin Myoshu" and our rich experience in organizing international conferences, we endeavor to welcome you with hospitality and sincerity and to make this a wonderful conference to your utmost satisfaction.
We very much look forward to your participation in JSOG 2023.
Aikou Okamoto, Congress President